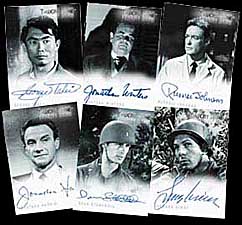 © 2002 Rittenhouse Archives
.

Twilight Zone returns in yet another bone-chilling, spine-tingling series of collector's cards from Rittenhouse Archives. This all-new series, subtitled "Shadows and Substances," offers up DOUBLE the excitement of its predecessors, with not 2 but 4 hand-signed autograph cards in every box*!

In addition to the tremendous autograph lineup, there will be more in-depth plot synopses and never before published photos from several of the show's most memorable episodes, including "A Quality of Mercy", "A Game of Pool" and more!

Autograph signers for this series include luminaries such as Leonard Nimoy, Jonathan Winters, Dean Stockwell, Jonathan Harris, Russell Johnson, Julie Newmar, Jack Klugman, George Takei and more!
* Reflects the average across the entire production run of boxes