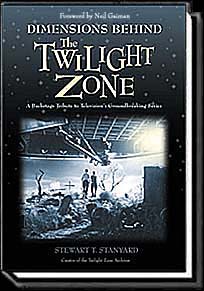 ECW Press presents...
'DIMENSIONS BEHIND the TWILIGHT ZONE'
'A Backstage Tribute to Television's Groundbreaking Series'
by author Stewart T Stanyard
This long-awaited high-end coffee-table book, a veritable visual history of the creation of the original Twilight Zone television series, features a treasure of over 300 rare unpublished production photos shot during the making of the series. Accompanied by 5 analytical and informative chapters by the author, 39 insightful interviews with writers, directors, producers and actors, and 12 Hollywood appreciation essays (including a piece by TZ writer George Clayton Johnson, composer John Ottman and rock drummer/lyricist Neil Peart), readers will witness firsthand, what went into the making of the series, what Rod Serling was all about and the reasons for the show's timeless longevity.
With a foreword by popular writer Neil Gaiman, the book is also endorsed by Hollywood creators such as JJ Abrams, William Shatner, Marc Scott Zicree and even Carol Serling, who comments - "This Twilight Zone book contains a visual history that's never been uncovered before now. Stanyard's massive collection of original production photographs is truly a treasure".
STARLOG MAGAZINE SAYS - "We're simply stunned by Dimensions Behind the Twilight Zone by Stewart T. Stanyard. It showcases 300 prime photos from Stanyard's unparalleled collection of some 4,500 TZ images, a forward by Neil Gaiman, essays on the show's themes and history, and fascinating chats with lotsa TZ veterans (some of whom, thankfully, have new things to say). You have to see this - if only for the fabulous photos."
Get your copy of Dimensions Behind the Twilight Zone at your local book store or online TODAY!
...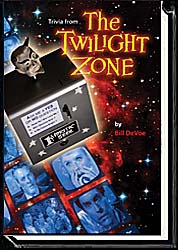 Bear Manor Media presents...
'TRIVIA FROM THE TWILIGHT ZONE'
by author Bill DeVoe
Inside Trivia From the Twilight Zone you'll find a celebration of detail loaded with fun facts, trivial tidbits, puzzles, quotes and much more. A delightful compendium of: word search puzzles, photo quizzes, match games, chaser quizzes, a jumbo crossword puzzle and much more from one of the greatest television shows ever produced.
"Trivia From the Twilight Zone is full of fun trivia, enough to satisfy both longtime Zoners and new fans of the show." - tzoneman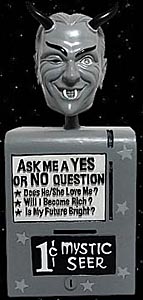 ENTERTAINMENT EARTH presents...
TWILIGHT ZONE BOBBLE HEADS!!!
The Mystic Seer, Invader, Talky Tina and Gremlin bobbles heads are quite unique!
Great fun to display in your own Twilight Zone display, in your car, or just about anywhere!
The Talky Tina bobble head actually several June Foray lines straight from the episode Living Doll! Order your TODAY!!!